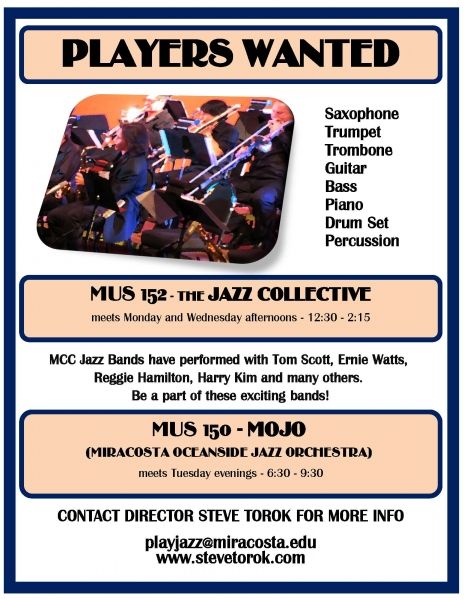 Steve directs both the MiraCosta Jazz Collective and MOJO (MIraCosta Oceanside Jazz Orchestra). Both the big band MOJO and the smaller Collective perform in styles including hard bop, blues, Latin, and funk. The bands gets back to work over the next few weeks. Please consider joining!
The bands have performed with Tom Scott, Ernie Watts, Harry Kim, and Reggie Hamilton, among other well know jazz musicians.
Jazz Collective: Audition at first rehearsal (Monday, August 22 at 12:30 pm) or email to schedule another time.
MOJO: Audtion Tuesday, August 23 at 6:30 pm or email to schedule another time. Rehearsals begin Tuesday, September 6.
Please contact Steve Torok at playjazz@miracosta.edu with questions or for info about auditions.
And please spread the word!
Click to download a MiraCosta Jazz Bands Poster