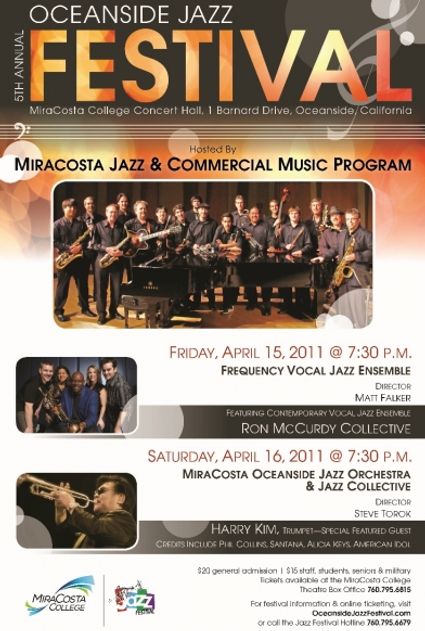 The Oceanside Jazz Festival at MiraCosta College is Friday and Saturday, April 15-16 2011. High school and collegiate level groups will be performing all weekend.
Friday night's concert features the Ron McCurdy Collective (with MCC Prof Matt Falker) and the MiraCosta College vocal jazz students. Info about Ron's group at http://www.ronmccurdy.com/rcvje.htm
I will be directing the events on Saturday. That night's concert features MOJO (MiraCosta Oceanside Jazz Orchestra) and the MCC Jazz Collective in concert with trumpeter Harry Kim. Info about Harry at http://www.harry-kim.com
Please see http://www.oceansidejazzfestival.com/ for ticket info, band applications, and more about the festival. Or directly purchase tickets at this link.
Hope to see you there!
Download a 2011 Oceanside Jazz Fest Poster