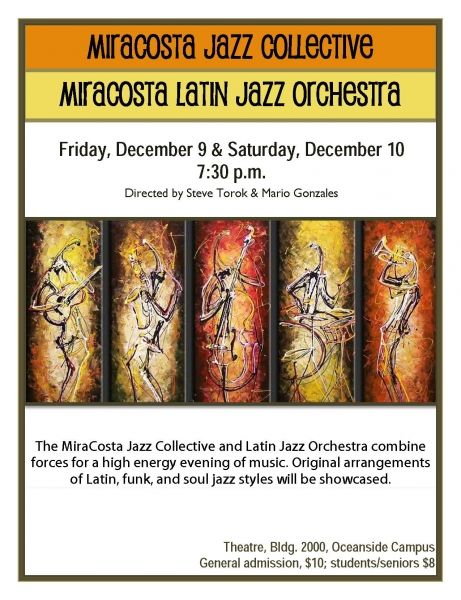 MiraCosta Jazz Collective / MiraCosta Latin Jazz Orchestra
Friday, December 9 & Saturday, December 10 at 7:30 p.m.
Directed by Steve Torok & Mario Gonzales
Theatre, Bldg. 2000, Oceanside Campus
General admission, $10; students/seniors $8
The MiraCosta Jazz Collective and Latin Jazz Orchestra combine forces for a high energy evening of music. The Collective has learned a ton of music this semester and the audience will pick our set!
Download a poster for this concert.
MiraCosta Oceanside Jazz Orchestra
Sunday, December 11 at 3 p.m.
Directed by Steve Torok
MiraCosta College Theatre, Oceanside Campus
General admission, $10; students/seniors $8
One show only! Pianist Dan Siegel will join MOJO for an eclectic and exciting afternoon concert showcasing the music of Maria Schneider, Kenton, Basie, Ellington,and John Clayton, plus some Christmas faves. New arrangements by Mike Tomasiak (MCC music major) and Steve Torok will also be performed.