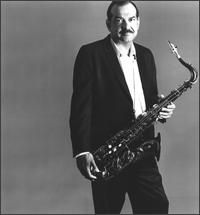 "...an intense and masterful jazz improviser who has developed his own sheets of sound approach along with a distinctive and soulful sound. Ernie Watts has developed into one of the most powerful of tenormen with complete control over his horn and the ability to bring intensity and passion (plus taste) to any musical situation."
Scott Yanow/All Music Guide
On Saturday, May 4 saxophonist Ernie Watts will be featured in concert with the MiraCosta Jazz Collective and the MiraCosta Oceanside Jazz Orchestra. Ernie is a one of the most respected and influential tenor saxophonists of the post-Coltrane era. A two time Grammy award winner he has performed and recorded with many of the pop and jazz world's biggest stars including Thelonius Monk, Oliver Nelson, Charlie Haden, Buddy Rich, Aretha Franklin, Rolling Stones, Marvin Gaye, Steely Dan, Frank Zappa, Pat Metheny, and hundreds of others. The concert will feature Steve Torok's arrangements of Ernie's original music for the Jazz Collective, plus familiar standards.
Earlier on Saturday as part of the Oceanside Jazz Festival Ernie will present a free jazz improvisation clinic and Q & A at 1 PM. The evening concert begins at 7:30 PM.
Info and Tickets: http://www.miracosta.edu
For more information please visit http://www.erniewatts.com/ and email playjazz@miracosta.edu.